Treatments for Kawasaki Disease

Investigations
Blood tests
Other optional tests
TREATMENT FOR KD
Threapy
ASA+IVIG or ASA+INFLIXIMAB
IVMP 30MG/KG BWTX3HRS X3DAYS
ULINASTATIN
DOXICYLIN can mitigate TNF-a- induced MMP-9-mediated coronary elastin breakdown and improve coronary outcome
Antioxidants (HIGH DOSE VITAMINS -ACE)
HMG COA REDUCTASE(SIMAVASTATIN);CA remodeling and inhibition of inflammation

Therapy For IVIG Resistant Group
SECOND DOSE OF IVIG+IVMP
OR INFLIXIMAB 5mg/kg/Bwt/dose infusion + IVMP OR
ETNARCEPT 0.8mg/kg/Bwt/sc/wk+IVMP(ETACEPT CIPLA)
OR ULINASATIN 20000-30000 UNIT/KG Bwt OD IV X 3DAYS + IVMP
CYCLOSPORIN-A-Doses 3 - 8mg/Kg/Day PO X 5-6 days depends on a febrile period (serum level 400-500mg/ml)
METHOTREXATE
PLASMA EXCHANGE may be the final choice for Refractory KD
See Guidelines; http://www.pediatrics.org/cgi/content/full/114/6/1708

CORONARY ARTERY NOMOGRAM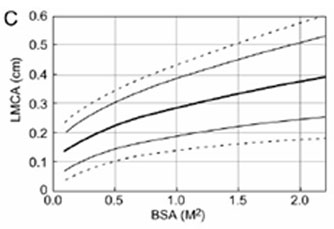 Coronary artery Echocardiographic evaluation
The initial Echocardiographic evaluation will be obtained as soon as the diagnosis of KD is made.
The normal coronary artery diameters correlate with BSA. In those with BSA < 0.5 m2, £ 2.5mm; BSA 0.5- 1.0 m2, 2.5-3.0 mm.
In children < 5 years of age, a proximal RCA, LMC, LCX and LAD exceeding 3mm and 5mm above 5 years considered dilated. (Japanese Ministry of Health Criteria), Irregularity of lumen also to be evaluated.
Mean and prediction limits for 2 and 3SDs for size of LAD (A), proximal RCA (B), and LMCA(C) according to BSA for children ,18years old. LMCA z scores should not be based on dimension at orifice and immediate vicinity; enlargement of LMCA secondary to KA usually is associated with ectasia od LAD, LCX or both.
    

Proposed Dosage Schedule       
Table 1: Proposed dosage schedule of antioxidants for the prevention of CAD in KD along with IVIG and Aspirin, is now under clinical trial
_________________________________________________________________

        AGE                           VIT A                         VIT E                 VIT C
___________________________________________________________
ROUTES AND                 Once daily               Once daily     Two divided                   
FREQUENCY                   x 4 Days                  x 14 Days       doses x 14
                                         Oral                          Oral                days oral
___________________________________________________________
>6MONTHS                     25,000 IU                    100 IU                500MG
6MO TO 1-YEAR             50,000 IU                    100IU                 500MG
1 TO 2 –YEAR                 50,000 IU                    200IU                 500MG
ABOVE 2 YEAR              50,000 IU                    400IU               1000MG
___________________________________________________________